The multi-faceted everyday life of our PTAs
We want to rethink health: with e-prescriptions on the smartphone, doctor's appointments via video consultation and medicines delivered contactless, the customer is at the center and has access to various health services with just one click in the DocMorris app.
Behind the scenes, our pharmaceutical technical assistants work to ensure that each product is accurately stored, monitored and delivered to customers in a timely manner. Their expertise and dedication ensure that the smooth operation of our digital health services seamlessly blends with the highest quality pharmaceutical care.
Precision and passion: the art of formulation
Using state-of-the-art equipment, DocMorris' formulation department creates medicines according to the relevant procedures or with programs specifically designed for the preparation. Each step of the manufacturing process is carefully monitored and documented to ensure the highest quality and safety.
The team prepares ointments, suppositories, solutions and creams individually according to prescription and ensures that they leave the premises on time with the other items in the customer's order.
Our pharmaceutical technical assistants in the formulation department are not only technicians, but also artists in their work. They balance scientific principles with craftsmanship and attention to detail to produce individual medications of the highest quality. Their dedication and precision go a long way toward ensuring that our customers and clients receive the best pharmaceutical care possible.
Is formulation the highlight of your PTA job?
Then get to know our team and learn more about our open positions!
Customer service - expert advice beyond hand-selling.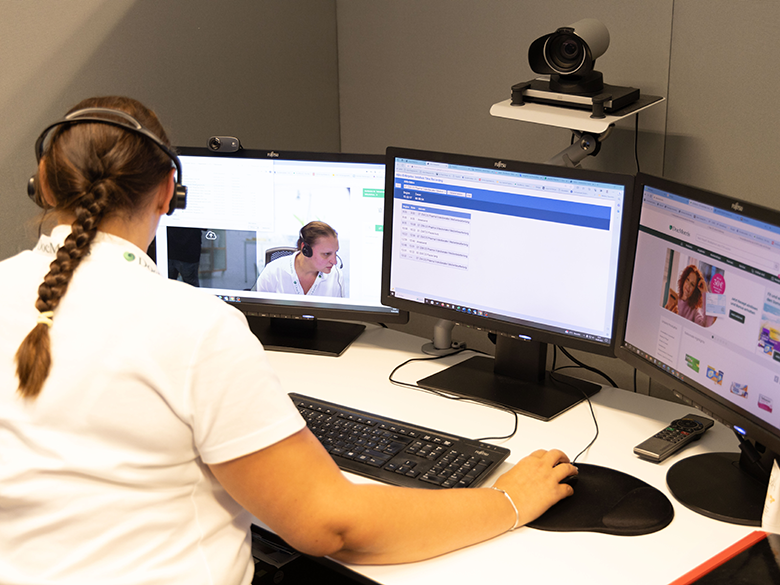 The DocMorris pharmaceutical customer service team answers a wide variety of questions from our customers throughout Germany and provides advice on pharmaceutical issues over the phone, by e-mail or via live video chat.
These different communication tools make the job extremely versatile and enable customer-centric advice, even though they are not physically present. Thanks to extensive induction, regular pharmaceutical training and communication training, our colleagues are able to answer all questions competently. Our team of pharmacists is always on hand to provide support.
Both career starters can gain valuable experience and deepen their knowledge here, as well as experienced PTAs, pharmacists and pharmacists who can further develop their skills in areas such as patient support programs, medication analyses, the induction of new colleagues and the optimization of processes.
Discover how you can specialize in activities and areas that you really enjoy. Come join our team and experience pharmacy in a different way!
The role of our PTAs in product quality and order verification.
Our PTAs don't pack packages here, they take care of ensuring the quality of products in the warehouse and checking orders.
In quality assurance, our PTAs randomly check the already packed packages before they leave our premises. In doing so, they not only compare the entire contents of the package with the order, but also go looking for the cause of any discrepancies that arise. If there is an error in the process.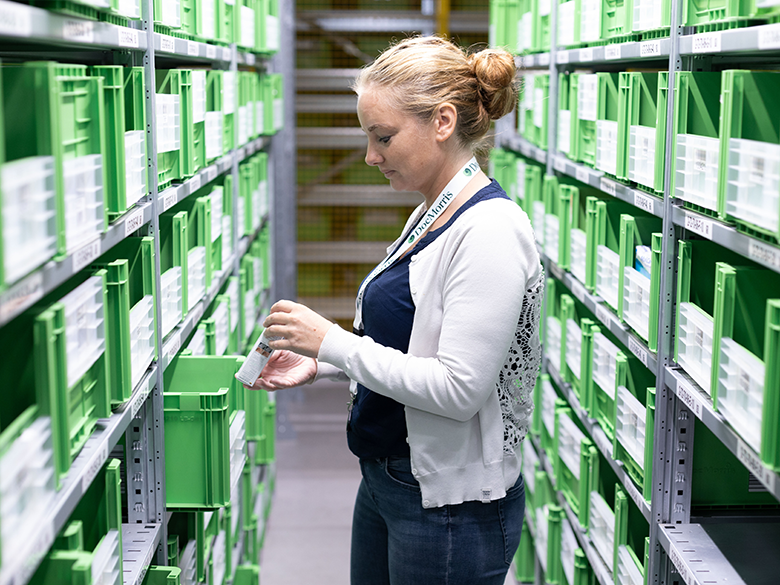 In another quality team, our pharmaceutical colleagues ensure that best-before dates and cold chains are adhered to. They assess whether deliveries need to be stored or returned and handle product recalls. As the central point of contact, they are available to the logistics employees, for example, for questions about damage or special packaging requirements.
In the quality inspection area, you will find an alternative to the classic PTA job, with which you will make an important contribution to the medication safety of our customers.
Pharmaceutical attention to detail in prescription control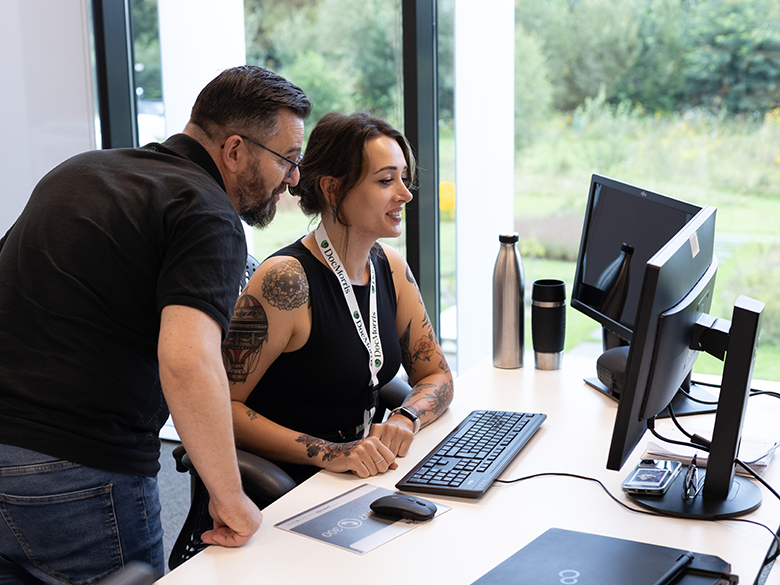 In Order Management, our PTAs work in a calm and focused manner to review and approve (e-)prescription orders. Each prescription and order is first checked for authenticity and validity. In addition, the employees check for pharmaceutical interactions, deviating dosages from previous orders, duplicate prescriptions, exceeding of daily maximum doses or other special features.
The daily receipt of thousands of prescriptions from all over Germany opens up a constant learning opportunity that brings the team into contact with a wide variety of prescriptions. Here, the employees also encounter more frequent prescriptions for patients with special requirements.
Ready to apply your expertise as a PTA in our Order Management team? If you are motivated to support our customers with your expertise and become part of a dedicated team, then apply today! Shape the future of healthcare with us!
Development paths as a PTA at DocMorris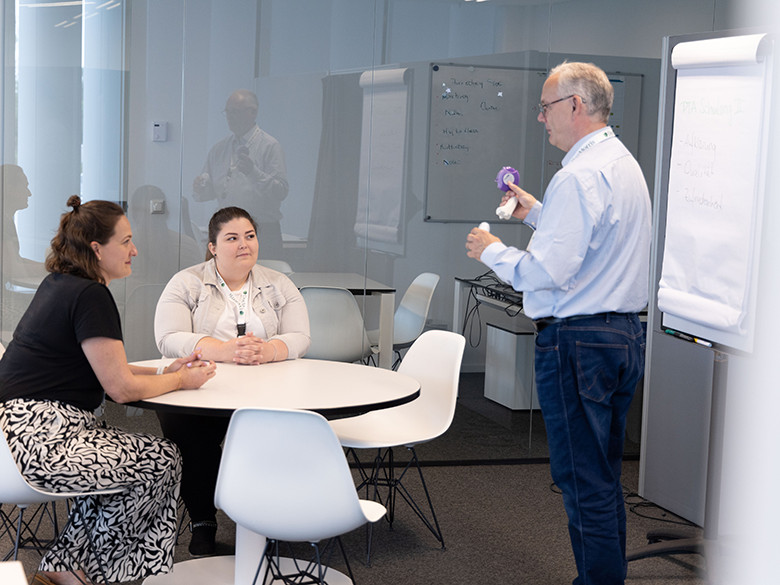 We are continuously expanding knowledge horizons, as learning never ends on the job. That's why we regularly offer pharmaceutical training courses that are integrated into our daily work routine. These training sessions are designed to familiarize our team with the latest developments in the pharmaceutical field. Current research results, new drugs and innovative technologies are presented to ensure that our PTAs are always up to date.
For us, it is not only important to impart knowledge, but also to promote talent. That's why we offer a variety of opportunities for further development within our company. Some of our PTAs have seized the opportunity to become senior employees, supporting team leaders and pharmacists or introducing new colleagues. Others have found their passion in areas such as marketing, process management or project support. We strongly believe that the individual skills and ambitions of our PTAs are a valuable contribution to the further development of our team and our company.
Hand on heart: would you have thought that working at DocMorris is so versatile? And that you could work to provide safe pharmaceutical care for millions of people while still focusing on your strengths and constantly developing yourself?
If you would like to take a look at DocMorris in person and find out which area suits you best, then apply now!